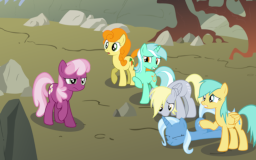 Trixie and her friends decide they need to be more able and prepared in the fight against the tyrant sun and her minions. Being the most tactically minded of the group, Cheerilee takes it on herself to go the extra mile in making sure everypony is at their best, but maybe she's taking things a bit to far...
────────────────
-- A season 2 fic for RainbowDoubleDash's Lunaverse.
-- Cover art elements by BlackGryph0n, boem777, Yanoda, Ocarina0fTimelord, extreme-sonic, lecza1234, and Hawk9mm.
Chapters (4)