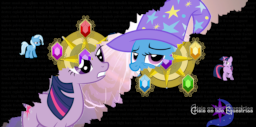 Trixie appears once more in Ponyville, but something is...off...about her. She isn't speaking in third person. She is convinced that she is supposed to be the Element of Magic, that Celestia is supposed to be the Tyrant Sun, that Luna is supposed to rule as Equestria's monarch - and that Twilight is supposed to be a wanted criminal. Has she gone insane? Or is something bigger beginning - with consequences that Trixie, Twilight, and two entire worlds, can only guess at?
The long-awaited Crisis on Two Equestrias begins at last!
While reading the stories of The Lunaverse can only enhance your reading experience, it is not necessary for this story! It is being written as completely, 100% stand-alone, with no prior knowledge necessary!
Chapters (16)