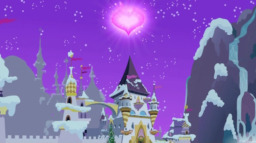 Source
After three hundred years sulking in Tartaros, a pegasus who made a deal with Windigos for power has been released for good behavior. Her first stop? Her old hometown of Ponyville!
A Lunaverse story, and a Hearth's Warming one. Happy Holidays!
Also, disclaimer: except for the punny name ("rime" is an obscure word for frost or ice), this story has essentially nothing to do with "The Rime of the Ancient Mariner".
Chapters (4)