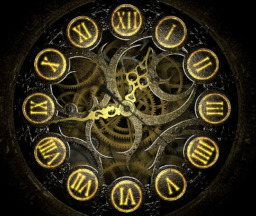 Celestia was having a bad week. Discord had came back from his stone prison and now her student almost went crazy. All she wants is some peace. Too bad an interdimensional time magister decided to permanently visit as well.
Oh, and that magister? He's been turned into an alicorn. And there's also another interdemensional intruder that happens to be nearby and the two hate each other. There goes the neighborhood.
---
This is a collab story, with its partner story being written by the awesome Silvak
Silvak's partner story: Nocturnal Mayhem
Apparently this dumb story got featured on 5/4/2017 and 5/8/2017! I don't know why, but it did!
Chapters (17)