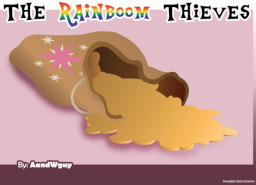 In an alternate world, the Mane Six are master thieves known as the Rainbooms!
Starring:
Twilight: The Brains and Leader. Specialty: Making plans and inventions.
Rainbow Dash: The Sneaky Thief. Specialty: High speed escapes and excellent stunt flyer.
Pinkie Pie: The Distraction Maker. Specialty: Making Distractions and Decoys.
Fluttershy: The Shy Doctor. Specialty: Healing ponies if they get hurt, and being shy.
Rarity: The Smooth Talker. Specialty: Making disguises and seducing stallions.
Applejack: The Muscle. Specialty: Heavy Lifting and driving carriages.
Together, they are the ultimate thieving team!
Cover art by the amazing Pumpkin Spice Unicorn!
There is also an audio drama of the first chapter by the wonderful CMC13: The audio drama is right here.
Featured on Fimfiction's main page on 6/13/2015 and 6/26/2015!
Also, this story is old. The early chapters are very low quality! You have been warned!!!
Chapters (94)