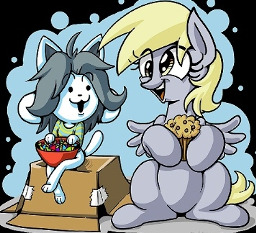 Derpy was on her regular mail route when a sudden crash caused her to meet the most peculiar creature. A little creature called Temmie. Now, she finds herself promising to help the little guy get home. Little does she know, the creature has a charm that will make anypony want to befriend the lovable little guy.
This is a MLPXUndertale crossover. May contain minor spoilers to Undertale.
I would like to thank Brony Dragon for the cover art!
Featured on Fimfiction's main page on 1/24/2016!
Chapters (6)