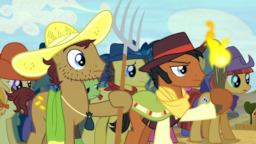 Source
Some topics should never be broached. If so, they can tear entire communities apart.
Some questions, once asked, can only be answered in blood.
Twilight is about to find that out, after noticing a distinct rise in the number of angry mobs forming outside her castle...
---
Inspired by a thread by SunTwi06
Now with an audio reading by StraightToThePointStudio!!!
Chapters (1)