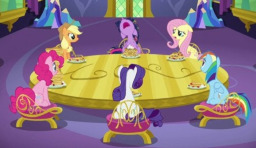 Source
The Mane 6 decide to play Truth or Dare. Like all good games of Truth or Dare, they'll laugh, they'll cry, and it'll get a little weird.
---
Rated T for mentions of sex and some f-bombs.
Winner of RobCakeran53's long-form Quills and Sofas Speedwriting contest. Conceived and written over the course of a weekend. The prompt was "Around the table."
Chapters (1)