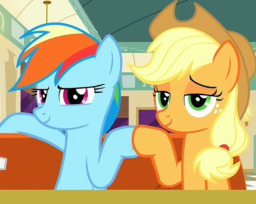 WARNING: THIS STORY HAS BEEN DEEMED AN OLD SHAME. IT DOES NOT REFLECT THE AUTHOR'S CURRENT WORK, AND IN FACT SUCKS ASS. FOR PRESERVATION PURPOSES IT WILL REMAIN.
The Mirror Portal is a mysterious device, capable of bridging gaps between worlds and allowing access between them. It's one of the most powerful creations of magic known to equinity, and nobody knows what might cause it to falter and smash the two worlds together like a poorly built Newton's Cradle.
So naturally two bullheads figure out how to exploit it.
Sex tag for occasional reference. Massive Thank You to Casketbase77 for proofreading and making a few suggestions, on top of generally being a great guy.
Written for the 6th Appledash contest.
01/04/20 got on the trending box or w/e it's called. No longer trust said little box.
02/05/20 200 likes. Y'all realize this is a bad story, right? Those likes are ironic?
Chapters (1)