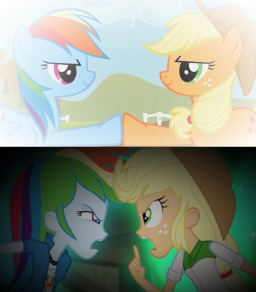 Applejack and Rainbow are summoned by the Cutie Map to solve another friendship problem. But to their surprise, the problem lies on the other side of the portal to the human world.
Now, finding themselves as funny looking, two-legged, small-nosed, mostly hairless monkey people, the two are faced with some important questions:
Can they survive life in this brave new world? Will they discover what the friendship problem is? How long will they be stuck here? And just why do their human counterparts seem to not be getting along?
Written for the fifth Appledash contest, "Second Chances".
Chapters (10)