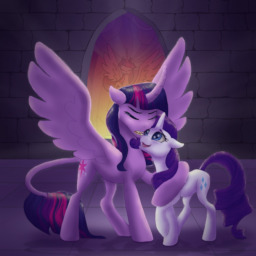 Twilight is having a difficult time adjusting to being an alicorn. Everything is changing, and it's nothing like she expected. She's wanted this all her life - so why is she always turning into a monster in her nightmares?
Her friends keep telling her that it can't be that bad, and whatever changes may come, being a princess is worth it. Especially Rarity, who looks at her a little differently now that she has wings and a title. But if Celestia won't tell her what it's really like being an alicorn, what else is she hiding?
---
Written as a gift for Seer, who deserves all the RariTwi in the world. Cover art by the fantastic Shaslan.
Massive thanks to all my prereaders - I never would have written this story without you.
CW for several varieties of unhealthy relationships.
Story updates weekly.
Chapters (6)