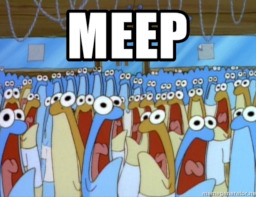 Source
Sugar Belle has always wanted to open a small cupcake bakery, and now she's finally getting the chance. It may be temporary, but she's excited, and Princess Twilight was even in town to help! Unfortunately, another group of customers is in town, and they're... hungry...
A slight Spongebob Squarepants crossover. RIP Stephen Hillenburg. :(
Done as a commission for the very creative Level Dasher, who has impeccable timing.
Chapters (1)