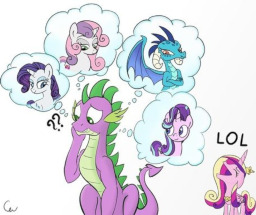 Source
Spike isn't used to having so many girls interested in him! Or... any girls interested in him, to be honest. But now he has tickets to a big royal ball, and also a big decision to make. There are four ladies who seem to be crushing on him, but he can't decide who to take to the ball! So, he turns to the princess of love herself to help him out. Unfortunately, Princess Cadance's words of wisdom might not be the ones he wants to hear.
Warning: Contains a little mean-ness to Spike. But only a little.
Written as a commission for the wonderful Olden Bronie, who would be a great date to take to a royal ball. :)
Art (and inspiration for the commission prompt) by Cogweaver, so go give him some love.
Chapters (1)