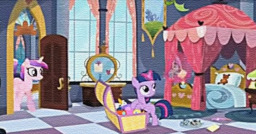 What happened between Twilight's entrance examination and her entrance to the School proper? How Twilight got to know Celestia, Cadance, and Spike, and started on the road to becoming the Element of Magic.
Now has a Making Of: blog entry, with the original outline and commentary on how this story came to be written.
Note: If you'd like more in this same timeline, a darker "flip-side" companion piece to this story can be found here: Acolyte of the Lunar Court
In addition, the Hearth's Warming tale The Night that Luna Returned is essentially a direct follow-on to My Little Student, and draws on some of the Celestia-related aspects of this story.
Chapters (14)