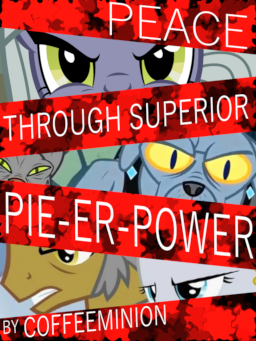 A Diamond Dog attack has shattered the quiet calmness of the Pie family rock farm. Now besieged in their own home, the Pies grow desperate to find a solution.
As it turns out, one of their four young fillies has a solution in mind—though it's a bit unorthodox.
---
This story is an entry in the Season 9 Bingo Contest. I received bingo card #042, containing "Starlight Relapse," "Pony Science," "Earth Pony Flight," "Ember," and "Diamond Dogs." I assert that this contains elements of "Pony Science" and "Diamond Dogs." Story idea & description text by FanOfMostEverything!
Chapters (1)