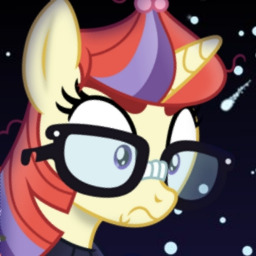 It was supposed to be a simple stargazing trip up to the mountains. But what Moondancer discovers hidden in the moonlight may change her life forever…
...or may, at least, wear too much eyeliner.
For on this night of nights, there lurks a pony of deep darkness: Moonlight Raven, whose adoration of the strange and mystical not only rivals Moondancer's respect of science and reason, but is physically preventing its pursuit.
Can these lovers of the night find common ground, or are they fated to annoy each other to death?
---
Pre-read by Bookish Delight and Rune Soldier Dan following an appearance in the November 2015 Writeoff, "Out of Time". Cover art assembled from here and here.
Chapters (1)