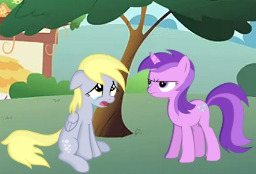 On the surface, Derpy Hooves is doing well. She has a comfortable home, a happy daughter, and a steady job.
Below the surface, things aren't adding up. The house needs fixing, Dinky needs sitters, and Derpy's hours are being cut back.
When the one pony who can really get under Derpy's skin pushes her toward a decision she can't make, everything threatens to come crashing to a halt.
---
Proofread by the redoubtable OnionPie.
Cover art stitched together from here and here and here using Inkscape.
This is my entry for the Outside contest.
Chapters (1)