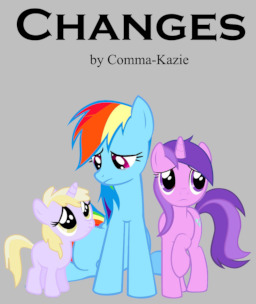 This story is a sequel to From the Mouths of Fillies
---
Dinky and Sparkler have the most awesome godmom in Equestria--that's right, me! Rainbow Dash. Being friends with their mom means I've spent a lot of time with them over the past few years. They're pretty cool kids.
But then ... well, Ditzy got sick. Like, really sick. I've been watching them for her, but if she doesn't get better soon, they may be staying with me for a lot longer than I thought.
That's okay, though: I'm Rainbow Dash. I can handle anything life throws at me.
(Connected to From the Mouths of Fillies, Saying Goodbye, and Feeling Regrets)
Chapters (3)