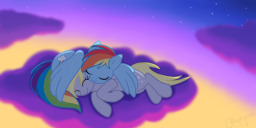 Source
Ditzy Doo is the daughter of a prominent family in Canterlot. So why has she shown up at Rainbow Dash's doorstep, years after they last saw each other? Rainbow is willing to go to out of her way to help an old friend, but she may get more than she bargained for: being away from home isn't the only thing Ditzy has to adjust to...
A prequel to the events of both continuities in The Winningverse.
Co-authored by Chengar Qordath.
Chapters (4)