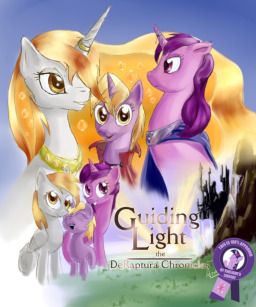 Source
Book one of the De Raptura Chronicles
Ditzy "Derpy" Doo, once a humble mail mare, was elevated to godhood in a last, desperate act by Celestia moments before she and the entire royal family disappeared. Now the newly crowned Princess De Raptura must contend with the machinations of a court completely alien to her, reconcile with her daughter, make peace with Twilight Sparkle and learn how to control the sun.
And she's fairly sure she still has a package to deliver.
---
The story continues in To See The Light
---
Also available on Google Docs!
---
"This story differentiates itself from other 'bad things happen to Equestria' stories with its smart character work and realistic, powerful emotion. We need more stories like this." -Pre-reader who likes sky pirates
Short description borrowed stolen from FanOfMostEverything.
Chapters (10)