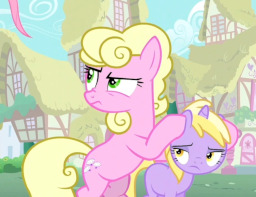 When Derpy must out of town for a week and needs somepony to take care of Dinky while she is gone, she calls for Dinky's aunt to look after her until she's back. And Dinky absolutely hates it.
Her aunt is always patronizing her by trying to protect her from things she doesn't even need protection from!
For Dinky, it's frustrating and annoying and it makes her angry. All that Dinky wants is to be treated with respect by her aunt and do the things she wants to do, but her aunt just doesn't listen.....
What lies ahead of Dinky is the worst week of her life.
For the full list of characters appearing in this fic, look at the top of Chapter 1!
01:10 AM (CET): 107 views in a little more than four hours! Thanks for letting this story skyrocket!
2016/07/06: And now "Aunt Millie" made it to Popular Stories too! Huge THANK YOU to everypony who made this possible!

2016/22/11: "Aunt Millie" got some fanart!

You can view it here:
https://s21.postimg.org/7ugpxamqv/Bring_back_her_video_games_Fanart_for_Aunt_Mi.png
Chapters (13)