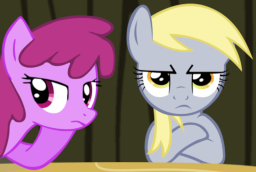 This story is a sequel to A Dinky Little Problem
---
Nopony's life goes according to plan.
When an overzealous social worker "encourages" Derpy and Berry Punch to start a support group for single-moms, the two discover they have little in common, save that their lives aren't turning out quite as they wanted.
---
Proofreading and consultation by the multi-talented Bluegrass Brooke.
Cover art stitched together from here and here and here and here using Inkscape.
This is my entry for the Deviance contest.
Chapters (3)