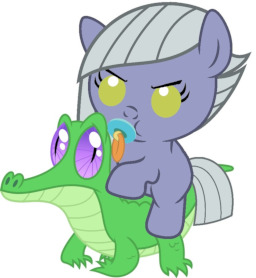 Source
One cold morning, a small grey filly crested the low hill at the edge of her family's farm, sneering down at the smoky swamp below as she sucked furiously on a squeaky yellow pacifier.
She was just old enough to understand that the arrival of her little sister Maud made her the "big girl" now... and she didn't like that one bit. Even worse, she'd heard mommy and daddy whisper that another was on the way.
But down there, in the swamp, was the means to end this madness. All she needed was to grit her teeth, toddle forward, and take it.
---
A cute and silly drabble inspired by the cover art, and proofread by hawthornbunny!
Featured on FimFiction 8Dec.2016-9Dec.2016


Also featured by Seattle's Angels

Chapters (1)