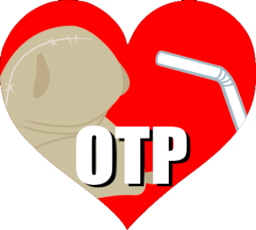 Sometimes Pinkie sees the world in ways that others don't. To her, a bendy drinking-straw might serve as a debonair traveling companion, and a humble bag of flour might offer a comforting shoulder to cry on.
But what would happen if that straw, and that bag of flour, came to see each other as more than mere support for Pinkie? What if a flame of raw, unbridled passion began to burn between them?
Wonder no more, gentle reader! For within these pages lies a tale parody of tragic love in the tradition of such timeless classics as Romeo and Juliet and/or Star Wars Episode II: Attack of the Clones. But be warned, for within ye shall find such passion as to stir thy soul, regardless of whether thou art spending this Hearts and Hooves day nestled in thy lover's arms, or tucking into a resplendent tub of ice cream by thy lonesome...
---
Proofreading and best lines by Moosetasm! Proofreading and extreme assistance with the ending by Present Perfect!
Art sourced from here and here and here.
Featured on Equestria Daily 25Feb.2016

Chapters (2)