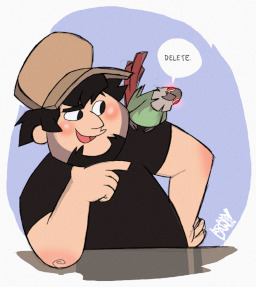 JonTron visits the land of talking, magical ponies while the author experiments with the concept of combining the literary medium and a multitude of short clips of the visual medium for a relatively entertaining experience.
HEY GUYS! I WRITTEN A STOR1Y WITH A BUNCH OF VIDEOS IN IT! ISN'T THAT AWESOME!?!??!?!!!?!1111?!?!?!
Rated T for the Tron in the JonTron ...also language.
Warning! Comments contain comments about the story! As such, since the comments are commenting about the story, it can be deduced that the comments commenting the story are commenting about information relevant to the story, which means that those who decided to read the comments before reading the story, for whatever reason, should be warned about comments commenting about information that's relevant to the story and the spoilage that may occur.
Edit: story featured on—ah, who even cares? I mean, why even bother noting the date? What am I gonna do? Look back fondly on the exact date that my story got put in the featured box? I mean, honestly, I'm pretty sure I just lost a whole bunch of views just for having the word 'featured' in my story's summary.
Cover image belongs to TWULF.
Chapters (1)