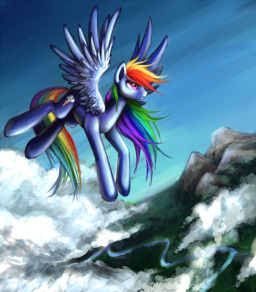 Edit: installments are now multi-chapter. Explanation here.
First main installment in the Tutelary Spirit universe. Recommended reading order: Loyalty, Honesty, Generosity, Kindness, Laughter, and Friendship.
---
Many ages after the original adventures of the Elements of Harmony, a young stallion soars high into the clouds, searching for the Element of Loyalty.
---
Her original life lived and gone so long ago, Loyalty, like the rest of her friends, has changed and grown over her many lifetimes to guide the ponies of Equestria.
Because even after so long, the Elements of Harmony will always share their lessons of friendship.
Cover image belongs to Nyarmarr.
Chapters (4)