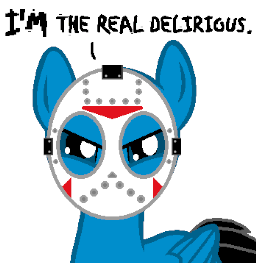 It's a fine, practically beautiful Saturday morning in Ponyville. The sun is shining, the grass is green, and ponies are getting out and about to enjoy the summer day. On her daily toil, Applejack discovers a lone blue pegasus with an odd white mask strapped to his face. He seems pretty nice, and he laughs funny, and may be a little insane, but he's here to stay. That's no big deal, the Apple family is nothing if not hospitable.
But, why does Applejack have an odd feeling about him?
---
This fic, while marked complete, does not have a concrete ending. If you're new, please keep this in mind. The final chapter is, as it says, an addendum, and details what would have happened had the story continued. Said chapter wraps things up well in my opinion, so the story is thus marked complete.
Damn I miss this story sometimes. I'm sorry, all.
---
Stop fucking favoriting this you assholes. I keep seeing notifications for it and get sad again.
Chapters (67)