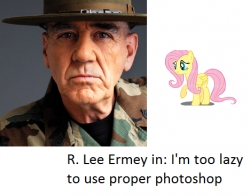 WARNING: EXTREME LANGUAGE AND HOMOPHOBIC/RACIST SLURS. The views expressed by my characters are not my views. If you're easily offended by a piece of comedy, don't read. If you complain about it being offensive, then you're obviously not listening to me.
We're on Chapter 1. The majority of the major characters ahve not appeared yet. If this goes against the site rules, inform me and I will edit accordingly.
R. Lee Ermey wakes with a splicing headache. Where is he? He'll soon find out.
R. Lee Ermey crashed into Ponyville.
Join Ermey and the mane 6 as they work through a series of wacky adventures comparable to absolutely horrendous movies like 'Click', 'Jack and Jill' and 'AnyAdamSandlerMovieEverMade'. A completely nonsensical, fic. Written for the pure enjoyment of those mindless sheep who watch Fox News and Family Guy. Sorry Adam Sandler, Fox News and Family Guy fans. But your sense of comedy is just as terrible as mine. So we're all together in this one.
Chapters (1)