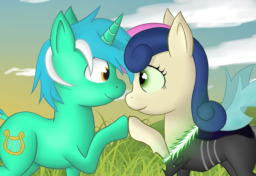 Source
Lyra and Bon Bon love each other, but they have a ... somewhat unusual relationship. One of them is a secret agent. One of them is a changeling.
And the third one is a perfectly normal pony, about to have her life turned upside down.
This may result in some questionable relationship decisions.
---
Third-place winner of FamousLastWords' "A Two-Faced Charade" competition!
"This story [is] a ride … chaotic, crazy, wild, an emotional rollercoaster." –FamousLastWords
Reviewed by Hopeling! "Now this is an odd, interesting and touching one. ... Go read it, you won't regret it."
Thanks to Titanium Dragon and BlazzingInferno for prereading suggestions. Cover art by mostlyponyart (whose blog seems to have vanished).
Chapters (1)