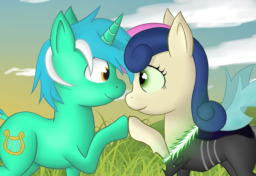 Source
Lyra and Bon Bon love each other, but they have a ... somewhat unusual relationship. One of them is a secret agent. One of them is a changeling.
And the third one is a perfectly normal pony, about to have her life turned upside down.
This may result in some questionable relationship decisions.
---
An entry into FamousLastWords' "A Two-Faced Charade" competition. Thanks to Titanium Dragon and BlazzingInferno for prereading suggestions.
Cover art by mostlyponyart (whose blog seems to have vanished).
Chapters (1)