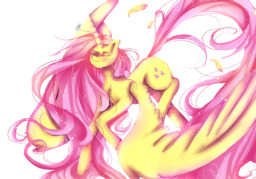 Source
Her house is in the northeast section of Ponyville, near the Whitetail Woods, and she is not married. She takes care of dozens of animals, both pets and wild critters, and she gets home every day by 8 PM at the latest. She is always in bed by 11 PM, and makes sure to get eight hours of sleep, no matter what. After having a glass of warm milk and doing about twenty minutes of stretches before going to bed, she usually has no problems sleeping until morning. Just like a foal, she wakes up without any fatigue or stress in the morning.
Fluttershy is a pony who wishes to live a very quiet life. She takes care of others with simple needs and makes sure that they're content, living vicariously through their own joy. That is how she deals with society, and she knows that is what brings her happiness.
Although, if she were to fight she wouldn't lose to anypony.
---
This story is an entry in Aragon's Comedy (is Serious Business) contest, with the prompt "We Learned Something, Unfortunately".
Chapters (1)