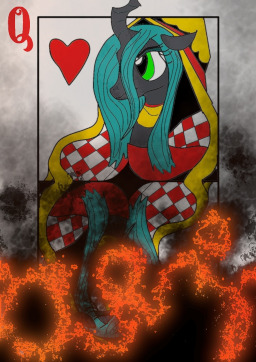 This story is a sequel to The Witch of Canterlot
---
Queen Chrysalis is the most perfect, brilliant, intelligent foe Equestria has ever faced, and in just a few days she's going to unleash her plan to conquer Canterlot, and then Equestria, once and for all. At this late stage, nothing can stop her! She can just sit back and enjoy herself until the moment comes to drop the hammer.
Sunset Shimmer isn't perfect, but she's had once heck of a time in Saddle Arabia and can't wait to tell Princess Cadance all about it!
They'll get along like a house on fire.
---
A one-shot sequel to The Witch of Canterlot.
Chapters (1)