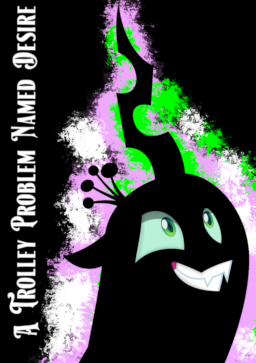 Twenty years. Twenty years spent sitting on a stone plinth, with birds getting absolutely everywhere. That kind of experience can change a pony, or a changeling. As long as she stays ahead of the newspapers and mail service, that story might even hold up.
A story about grudges, love, and the power of unremitting hatred.
---
No particular reason for the T rating, just covering my bases with how much Chrysalis teases ponies.
Special thanks to everyone who reads my works, follows me, or just happens to look at this -- you deserve to be happy too buddy, just like all our little buggy friends and even Chrysalis herself.
Written as my entry in FanOfMostEverything's Imposing Sovereigns II contest.
Chapters (1)