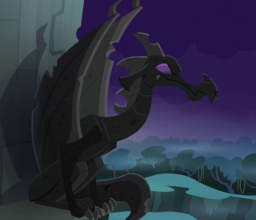 Long, long ago, the Age of Dragons ended in fire and ruin. The greatest of the dragons challenged the races of Equestria to prove themselves worthy to rule the next age.
The fast, the strong, and the clever all journeyed to answer his call … but sometimes true wisdom is found in the most unlikely of places.
---
★★★★★ rating from Louder Yay! "To create such a rich and evocative setting in barely a thousand words is deeply impressive. ... Clever, enjoyable and very well written."
Very Highly Recommended by MLPmatthewl419! "horizon accomplished the impossible to get this much world-building, feeling, and such wonderful characters with only 1k words … a deep and evocative story."
Third place in the Writeoff Association's "Just Over The Horizon" minific competition! Now revised and expanded for FIMFiction.
Chapters (1)