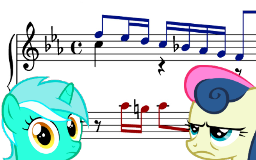 Ponyville has a problem: Twilight's friends all switched Cutie Marks, and the musical numbers are flying thick and fast.
Lyra has a problem: She can't handle the way musical numbers get into your head and take you over.
Bon Bon has a problem with that.
(Pony Fiction Vaulted • Featured on EqD)
Reviews and other word-of-mouth:
"I just can't find words for how much I enjoy the ideas on display here. … I didn't expect to be rating something this highly, this quickly." –Bradel
"The Lotus Eaters was the story that made me realize horizon wasn't just good, he was really good. Then Fugue State showed me he was really good repeatedly." –Bad Horse
"This story is weird, and I mean that in a good way. … [Horizon] thought about how ponies might react if [musical numbers] were a constant in Equestrian life." –Chris
Fugue State now has a sequel!
Chapters (3)