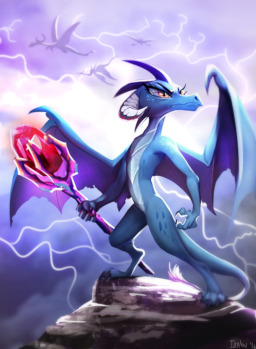 Source
Dragon Lord Ember took her throne when she won the Bloodstone Scepter, and its ancient magic which controls dragon minds.
In a world linked to Equestria, a very different Ember chafes under her father's leadership, hungry to take ownership of the instinct-controlling power of the Bloodstone Crown.
Their two worlds are about to meet. And only one dragon will stand between Equestria and the deadly, unforgiving call of the wild.
* * *
Winner of the Imposing Sovereigns II contest!
"Equal parts character piece and action movie, and it is amazing. I can't recommend it enough." –FanOfMostEverything
"For anyone who thinks that 'mere' fanfiction cannot be art, I can safely add this to the list of counterarguments." –cleverpun
"This is a good story, an important story, because it is so very relevant. Behind the fire, scales and teeth, is a very simple but incredibly real story about finding one's true place in the world." –Venerable Ro
Highly Recommended by Present Perfect! "Treat yourself to the most unique story on Fimfiction ... a pulse-pounding thriller that explores Dragon Lord Ember in ways no one else has."
Recommended by brokenimage321! "A moving story about inadequacy and adaptation. And it has some of the best combat scenes I've ever read, in any genre, period."
Recommended by HapHazred! "Distinctively written ... Exciting, interesting, and gets more intense and cerebral as time goes on."
Reviewed by cleverpun! "[W]ell worth your time."
A huge thank you to Skywriter for prereading assistance!
Chapters (4)