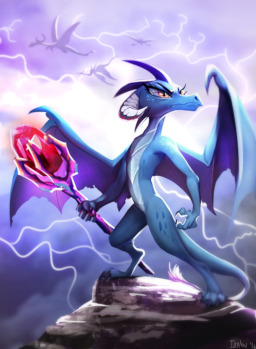 Source
Dragon Lord Ember took her throne from her father when she won the power of the Bloodstone Scepter, ancient magic capable of controlling dragons' minds.
In a world linked to Equestria, a very different version of Ember chafes under her father's leadership, waiting for her chance to truly wield the instinct-controlling power of the long-lost Bloodstone Crown.
Their two worlds are about to meet. And only one dragon will stand between Equestria and the deadly, unforgiving call of the wild.
* * *
Recommended by brokenimage321! "A moving story about inadequacy and adaptation. And it has some of the best combat scenes I've ever read, in any genre, period."
An entry for the Imposing Sovereigns II contest (prompt: Ember, War). A huge thank you to Skywriter for prereading assistance!
Chapters (4)