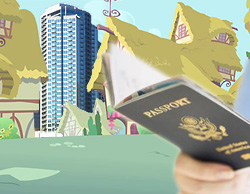 A Cutie Mark amplifies potential. It makes a pony formidable — but it makes a human a god.
When humans started visiting Equestria and returning with Cutie Marks on their hips, Earth changed overnight. Now a young man with an unwritten future is about to discover the true consequences of that change … and his choice of Marks will forever alter the fate of two worlds.
** CONTENT WARNING: Offscreen rape, mind control.** Earns its Dark tag.
* * *
Highly Recommended by Present Perfect! "Completely memorable ... I've never read anything like it. Also perfectly terrifying."
"It went on my Favorites shelf, and I really don't do dark." –iisaw
Third-place winner in the September 2014 Writeoff Association competition! Newly edited for FIMFiction!
Praise for the Writeoff version:
"What in the hell. … This is a really remarkable and surprising piece, one of the best HiE's I've ever read, and the best Friendship Is Optimal-style sci-fi I've read since FiO itself." –Present Perfect
"F**k you for writing an HiE that I actually thoroughly enjoyed. Just f**k you." –Golden Vision
Chapters (4)