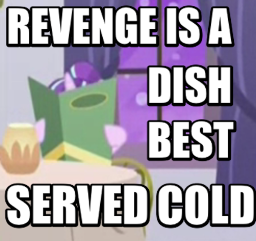 Twilight Sparkle has important friendship problems to solve. However, that's hard to do with a "reformed" villain following you around all day.
(Context for later readers: This is based on the old Season 5 buzz when Starlight Glimmer — who got beaten in the Season 5 opener but escaped — canonically showed up in the background of the café in "Amending Fences". It was a big deal at the time.)
---
Audio version: Livereading by mindlessgonzo and friend!
Finalist in the July 2015 Writeoff! Now revised and expanded for FIMFiction!
"Highly Recommended" by MLPmatthewl419! * Other reviews: Present Perfect, Titanium Dragon, PaulAsaran
Chapters (1)