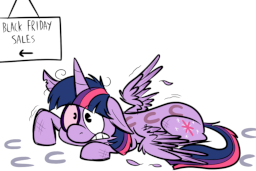 Source
Twilight Sparkle only wanted to go off-script in her Harvestfeast speech to talk about books — upending the Equestrian calendar wasn't the plan. But there's no stopping an idea whose time has come.
She and her friends just invented Black Friday.
Celestia help them all.
---
Written for the "Here at the End of All Things" Writeoff, and lightly edited for FIMFiction.
Chapters (2)