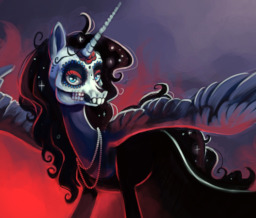 Source
A delinquent young alicorn named Luna just transferred to the Royal Crystal Academy, and Drying Paint has fallen head-over-hooves in love. But she doesn't care about him — or seemingly anything, except for the dark, mysterious gathering place she disappears to on weekends.
Paint might just find a chance to win her heart there. But the shadows hold dangers he never would have expected, and everyone must walk into the darkness alone.
---
Highly Recommended by Present Perfect! "It's won one contest and taken second in another … because it's outlandish, ballsy, and utterly unique. Read it."
Winner of Cynewulf's Worldbuilding Contest! "Horizon manages to hit both the kind of reader who likes Infinite Jest and the kind who hasn't cracked a physical book since high school, and he does so simultaneously. This is one of his better stories."
Won second place in the 9/2017 "True Colors" Writeoff (as a first draft)! Then third place in the Lunbra group's "An Unexpected Meeting" contest! Also featured by Seattle's Angels!
Praise for the Writeoff version:
"Seriously though, Loveless is one of the coolest things I've yet seen in the fandom." —CoffeeMinion
"Dear god I love this so much. ... The story crashed into me with energy, style, and pizzazz." —MrExtra
"Literally the story of how gothic clubbing destroyed the Crystal Empire." —horizon
---
Cover art by Graypaint. My thanks to GaPJaxie and Haze for editing assistance!
Chapters (4)