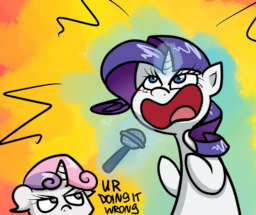 Source
Sirens? Check. Villain songs? Check. Pinkie Pie? ...Uh-oh.
Musical mayhem threatens Equestria so often you can set your watch by it. That's where the Versebreakers come in. They're often mistrusted and always misunderstood, but these brave souls won't rest until everypony's safe from the threat of out-of-control musical numbers.
In this anthology, eight authors offer ten stories on ponies whose job is to halt songs. Each chapter is a stand-alone story with its own unique take on the core Versebreaker concept. An anthology overview, and a brief introduction to each of the included stories, can be found here.
CONTRIBUTORS: AugieDog • BlazzingInferno • Caliaponia • FanOfMostEverything • Flink • horizon • Orbiting Kettle • Sharp Spark
Cover art: alittleofsomething
Chapters (10)