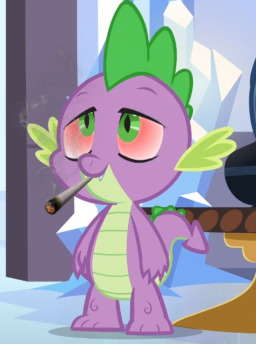 "Special" Delivery
New story! So, uh, it's not Time Enough For Love, but before you murder me in my sleep ...
I'm publishing this for two reasons: 1) it's a holiday story (lol blaze 420 lolololol), and I've been holding it for today; and 2) it was already complete and didn't take anything away from my editing time. I'm a regular participant in the Writeoff Association competitions, and I wrote this for the last MLP Writeoff. (Where, incidentally, I warned people it wasn't my usual, and it washed out of finals by a humiliating margin. At the time I wrote that post, it was pretty much a trainwreck, but I managed to add some better scenes in, and there are some things I'm proud of in the finished product. I don't think this is one of my better stories, but it might appeal to some people on subject matter, and I'm personally fond of the final brick joke.)
I should talk about Time Enough For Love and my other upcoming projects, so if you'd rather see me ramble about that than read an awkwardly silly drug dramedy, head below the cut.
Read More