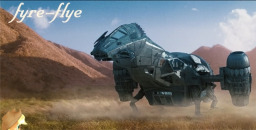 (A Firefly/MLP crossover.)
You can't take the sky from me.
Those are ex-Sergeant Applejack's thoughts when she buys a fyre-flye class transport ship. For those ponies who have lost the war that unified all worlds under one benevolent tyrant, there doesn't seem to be anywhere else to go but up. With Applejack as captain, the scavenger crew of Sereinity travels the fringes of the 'verse, "salvaging" and selling whatever they can.
Until recently, Sereinity was able to pass under the radar of the watchful Harmony Alliance. Now, though, a certain new passenger will make that impossible.
Chapters (9)