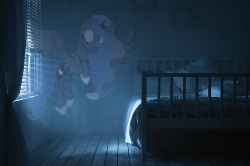 Source
There once was a story about the beautiful dark alicorn who moved the moon. In the tranquil countryside, a young boy listened to the story, looked at the stars, and imagined. He grew up and fell in love with the ruler of the night … and she loved him, too.
It was perfect, except for one nagging doubt in the back of the quiet boy's head: she was a character from a children's story.
---
Winner of the Writeoff Association's "Written In The Stars" competition! ** Featured on Equestria Daily ** Featured by The Royal Guard (twice!

)
Highly Recommended by Present Perfect! "An excellently written story about an emotional encounter between the titular characters … yet a good bit more than that. If you like reading, you will like reading this."
Recommended by Titanium Dragon! "This story had an excellent style to it, a sort of fairy tale like quality … really, this is a work of original fiction which pokes at MLP in only the barest of ways. But that doesn't mean it isn't relevant to your interests."
Art: Assembled by me. Luna vector by azur-wing.
Chapters (1)