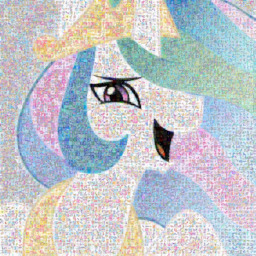 THIS IS NOT MY STORY!
Well, not only mine, anyway. Each author is listed with the chapter. A lot of people like writing short fiction based on Friendship is Optimal. So, anyone who wants their work added here can PM me and I will make you your own chapter. The first one sets up an in-universe frame story, because the Optimalverse is all meta like that.
Credits:
Iceman for writing the original Friendship is Optimal
Eakin for spearheading the project of anthologizing these.
MegaSweet for the original artwork.
Lacon-te for the photomosaic work.
Chapters (33)