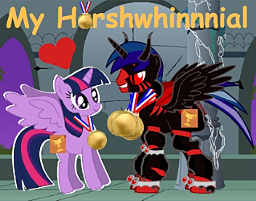 Source
This is a pony adoptition (NOT a troll fic u haters!! bcuz my OC is ALICORN not a troll!) of the best fanfic ever written except the original was too dark an goffik. So now it's abt sports and MEdal is Miss Harshwhinny's son. He does sports things and inspects cities for the inter Equestrian games. With his friends and sometimes his mom.
Written for the best group on FIMFiction which is about the best pony on FIMFiction! (But Medal is just as awesome too)
Also -> As seen on the Pony Friction Vault!!! w/ interview
Also also -> listen 2 dramantic reading by Skirider!!! (charp. 1-7) oH mY bUCKING aLICORN thx u
Alsalsalso <- now w/ith gUEST arthur Furzebert who is mUCH betar arthur then Madny!!!!!!! he ficced sum crapters.
Alsalsasalsaso --> MiSTificated with commentation by Thethorglame which it has swears so that means he liked it! Part 1 and Part 2
Also sports
Chapters (20)