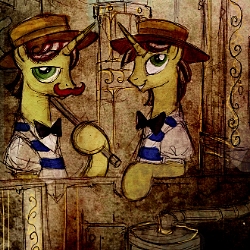 Source
On an unassuming carnival midway in central Equestria sits the key to your dreams: A machine that lets you, for a short time, live a life in which your greatest regret never occurred.
These are the stories of what happens after those fantasies are over.
Each chapter is a complete, self-contained vignette (though their order of presentation is deliberate).
---
Reviews and other word-of-mouth:
• Highly Recommended by Titanium Dragon! "Each of the four stories is good in their own way."
• Featured by Seattle's Angels! "If the introspection or feels aren't quite up your alley, the comedic punchline just might be, thus this fic has a little something for everyone."
• Also reviewed by PaulAsaran, Present Perfect, City of Doors, and Chris!
• "'The Lotus Eaters' was the story that made me realize horizon wasn't just good, he was really good." —Bad Horse
CONTINUITY NOTE:
This is set in the same continuity as my previous story No Regrets. Reading that first will enhance your enjoyment of both stories, but is not required to appreciate this.
After you're done with TLE, here are the author's notes (contain mild spoilers).
Chapters (4)