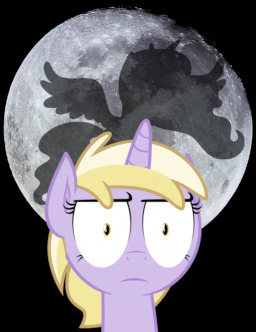 For thousands of years, the moon has waged endless war on innocent beaches. Every day the tides wash away countless sand castles, crushing the dreams of foals all across Equestria. Somepony needs to stop the moon's heinous crimes—and, at last, it looks like somepony will.
After her sand palace is washed away by the ocean, Dinky Hooves takes it upon herself to do something that should have been done centuries ago: destroy the moon.
---
Now with a reading by Teksune Studios!
Originally written for the Writeoff Association's February Contest, "Look, I Can Explain..."
Thanks to Foehn, Quill Scratch, Murmurpunk, Horizon, and Oroboro for helping out in various ways.
Dinky vector by ZuTheSkunk. Silhouetted Luna vector by NightFlyer22. Moon photo by NASA.
Chapters (1)