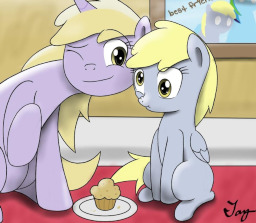 Source
This story is a sequel to Undeliverable
---
Ten years ago, Ditzy Doo vanished. Ponyville mourned her and sorely felt her absence, but over time, the tragedy lost its sting. Sad as it was, they all accepted Ditzy's disappearance and moved on with their lives.
Come Tartarus or tidal surges, Dinky Doo is going to find her mother.
An entry in ocalhoun's Big 250k Contest.
Chapters (1)