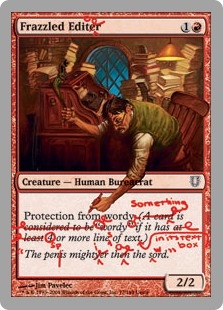 Source
A collection of short stories inspired by Magic cards generated by RoboFoME, which is powered by FanOfMostEverything's Friendship is Card Games. Given the nature of the cards generated (completely random), I cannot guarantee that every story will make sense in any capacity, or that the non-AU stories will adhere perfectly to canon.
If you are unsure of why this is, go ahead and have RoboFoME generate a few cards – even if you don't play or understand Magic – and you'll see exactly why. This is half experiment and half I-want-something-that-I-can-write-whenever. I make no guarantees on story length.
Rated Teen because I just don't know. No understanding of Magic is required to read these.
(Some of these may have been proofread by Bugsydor shortly before posting.)
(Some of these may not have been thoroughly proofread by the author before posting.)
"Man, these stories are feckin' weird." – Present Perfect
"You bastard." – FanOfMostEverything
"needs a space after the comma" – KingMoriarty
"I like the title." – Bugsydor
Chapters (19)