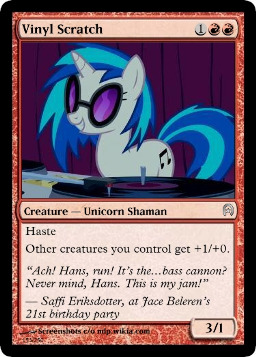 Magic: the Gathering, beloved of nerds across the multiverse, allowing everypony to express their personality in the worst possible way since before Nightmare Moon was banished. One day, the game spreads across Ponyville, with dire and nonsensical consequences. Will Ravnicolt survive the onslaught of Rainbow's dragon deck? Will Neighcol Bolas's diabolical master plan come to fruition? Will anypony make it through a whole game without facehoofing?
Probably not.
A series of vignettes to no greater point or purpose. More may be added later. Or not.
In spite of my best efforts to keep it simple, this probably won't make much sense if you don't have at least some understanding of the game.
Cover art from Ponylude.
Chapters (4)